Transforming UOB students' CX journey
Gulf CX, a RAYA CX company, has handled the University of Bahrain's Student Service Center support since September 2019. Mapping out the student's experience and transforming the student's journey has proven quite successful as the 2022 results from a student satisfaction survey were very impressive. Over 4200 students participated in the two-year study to gauge satisfaction levels with the Student Service Center support activities handled by the Gulf CX team.
Student Service Center is Every Student's Go-To
The role of the University of Bahrain Student Service Center is to be the source of all university information and to have open communication with new and existing students through several channels.
Outsourcing the Student Service Center role to Gulf CX was intended to improve the level of service that the university students received. To transform their CX journey and provide a more cohesive and broad service that ensured they received support quickly and easily, no matter the channel used.
The Gulf CX service team responds to student inquiries, handles complaints or suggestions, and offers administrative and academic procedural assistance to ensure students feel fully informed.
Gulf CX introduced various channels to handle students' and graduates' inquiries via various university channels including phone, WhatsApp chat, email, web chat, and chatbot. Gulf CX is the individual's first point of contact and when needed the student's communication is passed to the relevant expert.
Student Happiness Captured
The first center survey in 2021, just one year after initiation, showed that 75% of the students who responded were 'very satisfied', and a further 10% stated they were 'satisfied' with the service provided.
A survey by the university to measure the level of satisfaction was carried out amongst the service beneficiaries on the second anniversary in September 2022. The 'very satisfied' rose to over 80%, and those saying 'satisfied' at 8%, from over 4200 students who responded, giving an impressive 88% satisfaction rate and a clear sign that service outsourcing was the right move for the University of Bahrain.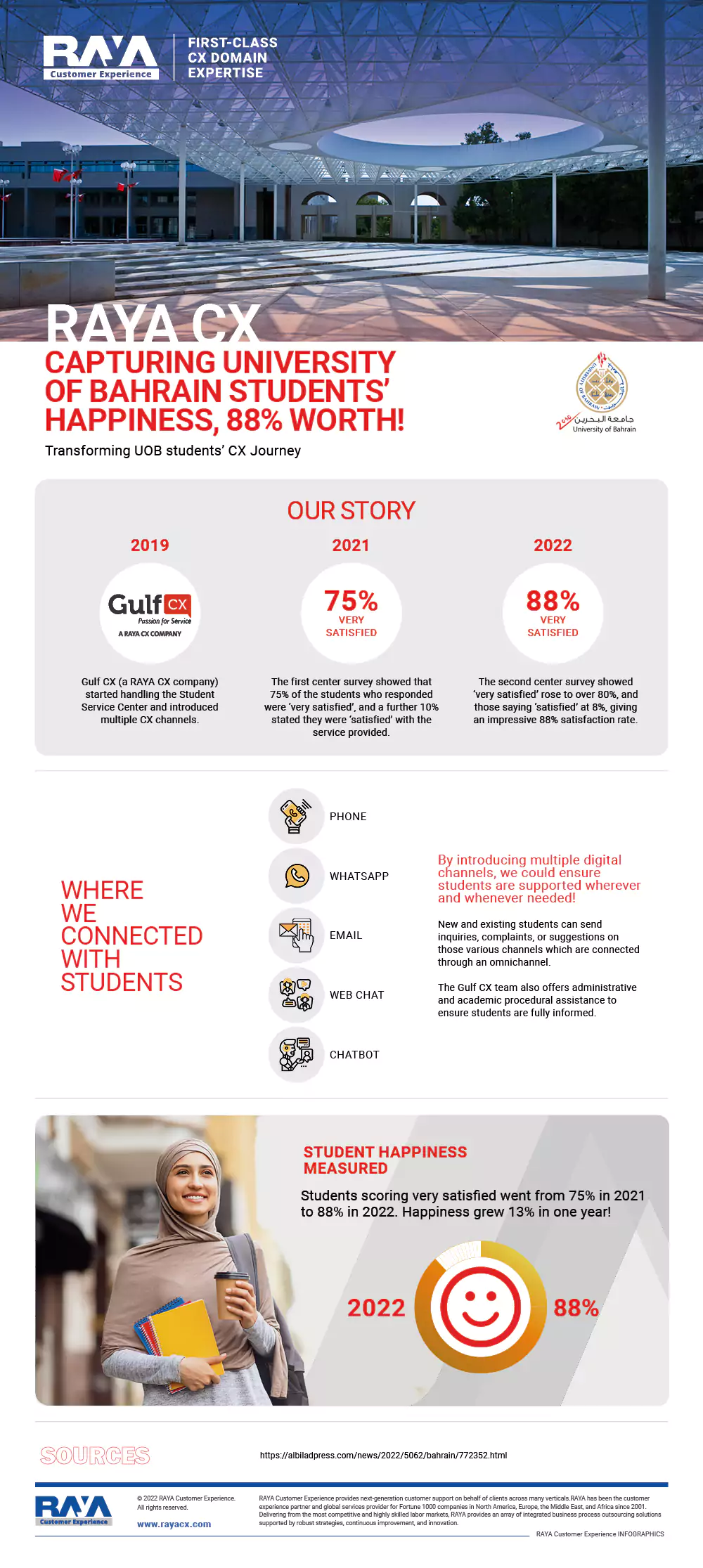 Could your university or educational institute benefit?
If you're interested in transforming your students' journey, retaining students, and gaining new ones, just get in touch and find out how RAYA CX can capture your student's happiness too!
Book a Free Consultation!